2018 scale forecast of electronic audio effects Market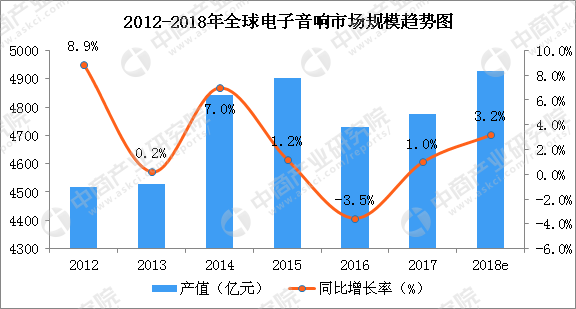 The "2018 Guangzhou High-Profit Patent Cultivation Seminar of Electronic Audio Industry" sponsored by Guangzhou Electronic Audio Industry Association was held in Huadu District. At the meeting, 13 companies such as Guoguang Electric Appliance Co., Ltd. and Guangzhou Panyu Huge Automobile Audio Equipment Co., Ltd. were awarded the licenses of intellectual property demonstration enterprises, advantageous enterprises and pilot enterprises in Guangzhou electronic audio industry.
According to the "2018-2023 Electronic Audio Industry Market Prospect Research Report" released by the China Business Research Institute, the global electronic audio market output value shows an increasing trend from 2012 to 2015, but the annual growth rate is single digit. In 2014, it achieved a higher growth rate. In 2012-2016, the annual average compound growth rate of the global electronic audio industry's output value was 1.1%. The China Industrial Research Institute predicted that the global electronic audio industry's output value will be nearly 500 billion yuan in 2018.